Shaping Future Leaders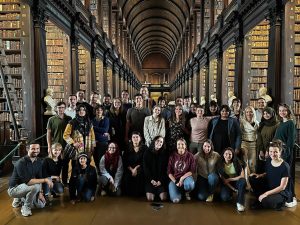 In July 2022, 150 participants joined one of the four summer schools held around Europe in Dublin, Lisbon, Prague, and Milan where students and young professionals learned from EIT Climate-KIC methodologies and tools to work on climate change challenges. The two-week residential summer school hosted students and young professionals to obtain new skills in systems innovation, sense-making, stakeholder engagement and in leadership to take climate action. The Journey Summer School was led by 11 partners clustered in 4 international consortia that hosted 150 students from 39 different countries.  
"At Climate-KIC we believe in building skills for the future and, once again, this year at Journey summer school we empowered future leaders with new skills in systems innovation, to navigate complex systems and lead Europe into a climate-safe society. Every year for the past decade, we have upgraded our programmes, and learned from the 10-year trajectory of building capabilities and skills in key groups of society. It has been a blast to work with our community of experts and partners in local ecosystems and see young professionals developing projects to local climate challenges systemically"
Marina Gil Velasco, 
Strategic Programmes Builder, EIT Climate-KIC 
The Climate Leadership Journey has been the challenge-based programme that prepares master's students, post-graduates, and young professionals to lead the systematic transformation that society needs to achieve a net zero future.  The methodology deployed in this programme offers a unique package of learning activities such as inspirational events, group and individual impact projects, and personal development sessions. The programme is divided into three dimensions:   
Inspiration: Starting with kick-off events in the form of provoking lectures (Sparks!) and the Digital Community Summit.  

 

Experiential Learning: a two-week summer school that includes a group project based on a local challenge, followed by an individual impact project.   

 

Personal Development: monthly interdisciplinary group coaching sessions, supported by individual coaching sessions and the so-called, "Leadership Log," a participant manual for their personal development.

 
This is a round-down of what happened this summer: 
DUBLIN: Summer school is formed by a consortium that represents a new collaboration between the Baltic States and Ireland, forming strong links between Regional Innovation Scheme (RIS) and non-RIS partners to offer a unique range of expertise and perspectives. The consortium aims to strengthen European Institute of Innovation and Technology initiatives by embedding these in local community-based activities.  Interventions will be scaled through public-private collaborations to train, empower and connect leaders in climate innovation, with the ultimate goal of driving and accelerating local-regional-national-international scale transitions to a carbon neutral society. Thanks to our delivery partners: Trinity College Dublin, Riga Technical University, Cleantech ForEst. 
LISBON: NOVA University Lisbon as well as Sorbonne University (Paris) and partners of the Institute Pierre-Simon Laplace (IPSL) Climate Graduate School form the second consortium of the Climate Leadership Journey. They believe in learning processes based on practical experiences, real-life challenges and boosted by creativity and unexpected perspectives. Portugal and France have committed to going carbon neutral by 2050, being renewables and energy efficiency key components. However, sustainability must be secured along this pathway, which raises complex challenges. Our focus has been on climate change mitigation but synergies with other fields are very much welcome. 
PRAGUE: This consortium represents the best of what the Czech environment can offer when it comes to sustainability and broader environmental-focused fields. It consists of the European Centre for Career Education and two large and traditional Czech universities. Czech University of Life Sciences and University of Chemistry and Technology. The consortium focus is primarily targeted on the empowerment of youth and their introduction to the industry and key hard as well as soft skills areas. They want to make sure that the Journey will benefit them in the long term not only by being provided with know-how and inspiration but also by real-life insights and connectivity which will be achieved by fully utilising the consortium business network.  
MILAN: This consortium is composed of three top-rated universities in the respective countries: Politecnico di Milano (IT), TU Delft (NL) and Aarhus University (DK). This year, these three Higher Education Institutes are challenging participants of the Climate Leadership Journey with a Bio-Inspired solution. During the Summer School held in the City of Milan, they collaborated in small co-design teams to propose system innovations for the adoption of the Mangrove Technology Platform in various scenarios. The technology proposes a passive solution for the desalination of salty water. This can be used for various purposes: from the recovery of land to be used for agricultural purposes to the creation of fresh water in places where this is extremely scarce.
"It was an honour to participate in the Climate Leadership Journey 2022 in Prague hosted by the European Centre for Career and Education (ECCEDU). I had a chance to be one of the jury members evaluating their two-week projects. The presentations were inspiring given that the teams had only two weeks to be formed, get to know each other, discuss the theme of the project, do an analysis and prepare a presentation for the jury. The jury evaluated the projects not only by the idea but if the project is feasible, scalable and has a clear climate impact. Projects that touched my heart were Green toy library, elaborating on the issue of toys which very often lay in kids' rooms unnoticed, and the project Daily Sunshine, touching on the psychological as well as the economic issue of climate anxiety."  
Magdaléna Prunerová 
Programme Manager ClimAccelerator Beyond 
Impact Hub Innovation